This year we have an elite group of women, selected, and set apart for a feature celebrating International Women's History Month. They have been selected for their leadership qualities and will be featured alongside their best-kept secrets to success—secrets you can access today from each of these ladies' unique perspectives.
If you are a business leader and facing challenges, these ladies inform you on how to make the most of your resources to race through the hurdles that you otherwise cannot leap past. These ladies provide a cheat-sheet to success in life's entrepreneurial jungle and one of the ladies teaches us three simple steps on how to tame technology today.
Celebrating the success of female empowerment in leadership is a core passion for our magazine — giving women a microphone in the media.
Read more from these 10 Business Leaders and their secrets to success, including gems on how to grow a business with God, lead a principled life, and lead in management as an inspiring director.
L.A. Roberts
Speaker, Founder of I Inspire Global, Executive, and Creative Consultant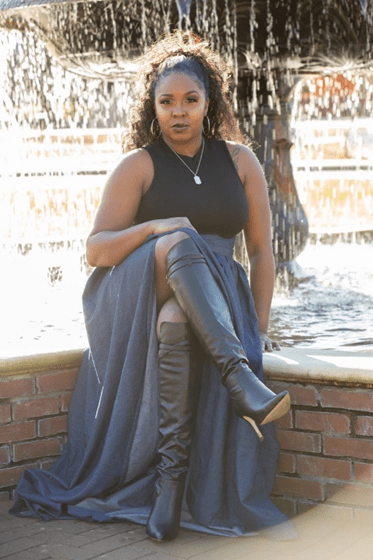 Leveraging Resources While Overcoming Challenges as a Business Leader
Find A Professional You Can Trust
It would be a wise decision to invest your money rather than sit on it and do absolutely nothing. This is advice that has always been given and will not change, because money working for you rather than you working for it is always the better decision.
It would be wise to seek sound counsel.
Independent Financial Advisors notice areas in your personal finances lacking and needing to be improved. They consider aspects of your pension, your loans, Mortgage loans, and other pivotal points of financial consideration.
A good IFA (Independent financial advisor) is independent & free from restrictions involved in acting on a third party's behalf; in other words, they are focused on your success.
They certainly are regulated, and experienced, if you have chosen "wise counsel," and they will ensure you do not run out of fuel along your chosen investment path.
Never Put Money in Something You Don't Know Well
A sound piece of advice too: never put your eggs all in basket you aren't holding yourself. This means do not invest in a category, certainly not everything, without doing your due diligence and selecting with caution. It is not a decision to be overlooked or taken lightly and unfortunately this happens a lot. Dale Carnegie mentioned, in his book How to Stop Worrying and Start Living, that we ought to look to the Law of Averages before panicking.
What does the law of averages tell us this time? We need to have a degree of alertness because, again, unfortunately people choose to invest by impulse rather than careful reasoning. Choose a familiar area — what Warren Buffett calls your "Circle of Competence."
KISS— "Keep It Simple, Stupid."
Keep it Simple! This sounds impossible today in a sea of information but with enough sifting through and pressing down, you can find the key elements that contribute to your sound plan and move forward with the necessary parts to the whole, not necessarily the whole!
We are, as investors, not taught to be consumer-minded and this is where that dovetails in and compounds more than anywhere else. This is a secret hiding in plain sight: You do not need all the money you initially think, you do not need to keep frequent track of every investment like a ticking clock, you do not try to time the market, and you automate the investment plans.
Of course, you diversify but you do not experiment with stock picking. KISS is the bottom line of investing principles because there is no investment that does not champion discipline and patience taking long-run return into consideration and that is the foundation of this path of investment.
---
Biba Pédron
Business & Mindset Expert
Secrets to Writing the Book You Have Always Dreamed of Writing
FROM BIBA PÉDRON'S EBOOK—MY BOOK IN 48 HOURS
What is Your Why?
Authoring a book can:
– be a highly rewarding experience,
– help establish you as an authority in your field, and generate excitement around your work,
– provide great benefits for your social media presence,
– reach readers who are most likely to be interested in your topic and message, turn them into fans and ultimately drive sales.
– be an effective tool to attract clients without selling.
– lead to speaking gigs, media interviews, and other opportunities that can help you grow your brand and reach a wider audience.

But authoring a book can also be a daunting task. So many people give up on their ideas, thinking that they will never be able to finish it.
That is why being the author of 8 books, including 4 bestsellers, I realized that people are missing so much, without authoring their own books to share their message.

Writing a book is not so complicated when you know the steps and I share with you how to write it in just 48 hours – Download them here: Ebook "writing my Book in Just 2 Days" by Biba Pédron
---
Christina Aristidou
High Performance Coach, Mentor and Trainer
LLB, LLM, Certified Professional Coach and Member of the International Coach Federation
The Ultimate Cheat Sheet for Success – In Entrepreneurship and Life
VISION & STRATEGY
Entrepreneurship is all about innovation, creativity, and clarity. Successful entrepreneurs see the big picture, draw their own vision, and take 100% responsibility to bring this to life.
Once your vision is clear, you can strategize your way through, breaking it down into actionable milestones. Commitment to your vision through consistent and relentless action is the key to progress.
Successful entrepreneurs are determined, disciplined, decisive, persistent, and focused and avoid unnecessary compromises, delays, or instant gratification traps – staying on track gets them where they want to go faster.
ETHICS & ADAPTABILITY
Successful entrepreneurs are adaptable, evaluating situations and remaining flexible to ensure their business is sustainable. They are genuinely interested in people, they are open and curious for new ideas, they network and take the time to nurture their relationships.
They are problem-solvers, approach challenges from different angles and surround themselves with a powerful team to support and challenge them towards achieving their vision. Successful entrepreneurs have strong work ethics, and they are leading by example.
They make the difficult decisions, set the standards high, meet such standards themselves first, and inspire others to do the same.
CONFIDENCE & MINDSET
Confidence is believing in your ability to succeed – it stimulates action, ventures you out of your comfort zone and enables you to reach your utmost potential.
Self-confidence and growth mindset cultivate emotional resilience which allows you to take calculated risks, overcome challenges, setbacks and failure in a way that is beneficial for their business and vital for its long-term success.
Successful entrepreneurs realize that learning is a lifelong process and their focus on learning and growth is what allows them to stay ahead of the curve and achieve success.
---
Shenuma Kashta
Tech Founder, Leadership Consultant, Business Mentor, Investor—Mumpreneur
Taming Technology: 3 Simple Systems to Manage Your Business with Ease
If there is one thing that holds entrepreneurs back from building a solid business, it's technology.
With the rapid evolution of tech systems and artificial intelligence, it's easy to struggle to figure out how your autoresponder connects to your website, and what page to send buyers to after they complete their purchase.
The volume of options available can be highly confusing and leave you bewildered about even the simplest aspects of your business.
Whether it's PayPal, some new Pay in three option, or Credit card processors – you're not really sure how much is enough.
The good news is you're not alone, as business owners we all go through this phase and the reality is, you only need a few things and they're not that difficult to manage.
Your Website
This is where you live online, your foundation per se. It's where potential clients will go to learn more about you and check out your blog posts, videos, courses/training, maybe your podcast episodes—your sales and landing pages will all be linked to here too.
Sound complicated? It's not.
You can have all of these wonderful resources, products and services in one place if you want to, no need to learn loads of different systems and try to figure out how they all go together.
And a good Virtual Assistant could get that up and running for you in a couple of hours.
Email Manager
Now that your potential customers have found you and are intrigued, at the earliest opportunity you'll want to begin building your mailing list.
Ideally, you can create a series of follow-up emails that are sent on a pre-determined schedule. These are what I term your "Nurture Sequence" and are a crucial part of your product funnel, designed to promote your products and services to your new subscriber—but also to nurture them and help them to know you and your business better.
You'll need to create an opt-in offer—perhaps a free report or cheat sheet. Then place a form on your website to collect email addresses.
Again, this is not something you have to learn to do yourself unless you really want to, as any good VA can quickly create an opt-in form and put it on your site.
Shopping Cart or Payment Processor
Now that your people know about you, and they like what you have to offer and know that you have the solution to their needs, they must have a way to pay you, whether for a product or service.
The simplest way to set this up is to simply create a PayPal button, then paste the code generated onto your sales page.
You'll receive an email whenever someone buys, and then you can follow up with a welcome pack or product delivery.
If you're looking for a more automated system (and I highly recommend it as a massive time saver), then consider purchasing a shopping cart.
These can be self-hosted or a pay monthly service, nevertheless they all operate similarly.
Your cart will automatically take care of product delivery whether it's a digital product, subscription, physical product, or service.
It will also add your new client to the appropriate mailing list, and even send follow up emails. It can even offer discount codes and special offers which expire automatically once the time period you set has passed.
So, there you have it. Three simple systems you need to tame technology and manage your business with ease.
---
Glory Amayanvbo
Founder, Entrepreneur, Investor
Growing a Successful Business with God
Principle 1:
Conduct business by serving others, being honest, generous, and faithful.
Serving others is always above on the list of priorities as a business. If you are not serving, then you do not provide a service. The secret to serving is seeking an honest connection with your customers and clients. With honesty, you can build trust and being trusted is an integral part of being an authority in an industry. Being faithful will attract God's blessing, and sowing generously ensures a bountiful harvest.
Integrity and honesty should be at the core of any business. As a Christian business owner, you should always tell the truth and be committed to upholding strong moral and ethical values.
When you build your business on Christian values and business ethics, you make it easy for your customers to trust you. When your customers trust you, they become loyal customers. That's a win-win scenario for both of you.
Principle 2:
God has a purpose for our business to contribute to His kingdom and His plan.
God's plan aligns with some of the trends we are seeing today. We are tackling poverty around the world; we are introducing wealth and prosperity within economies that support millions of people, and in today's complex economy, we are each steward of each other's success. This is true if only because the economy is now globally and inextricably linked.
God's purpose manifests where we leave a good inheritance for the next generations of His kingdom, so keeping our purposes in line with God's is then essential to our global communities.
Principle 3:
"Iron sharpens iron, and one man sharpens another." (Proverbs 27:17)
Christian business leaders have an obligation to invest in themselves and in others. Running a business gives you a lot of opportunities to invest in the lives of others, so it's an opportunity worth taking.
Invest in books and other resources for your business to facilitate continuous learning. Encourage your employees to share their ideas and suggestions for improving your business.
"For this very reason, make every effort to supplement your faith with virtue, and virtue with knowledge," (2 Peter 1:5)
Amanda Obidike
Accomplished Non-Profit Leader and Board Member
Future-Focused Skills — Lead the Industry
Teaching Future-Focused Skills is essential to raising the next generations of entrepreneurs, intelligent citizens, and innovation drivers.
You may ask yourself just what they are and how to learn or teach them. Two keen secrets will cover this and more.
Future-Focused Skills include but are not limited to real-life problem solving, creativity, a growth mindset, self-regulation, and technological skills. The idea is to prepare our students best for their future success; adequately equipping students with these skills means we must ask as teachers how we may best impart these skills.
Although the curriculum of future-focused skills is overwhelmingly rich in content, and the very thought of managing the time to teach the entire curriculum may bring anxiety, there are strategies to approach this effectively.
One strategy: providing accountability systems with clear expectations and timeframes around key deliverables is essential. The deliverables are written work, reports, and tangible evidence of learning. These systems will ultimately be enriched by the cross-disciplinary focus that future-focused skills demand you to teach. Yes, Science overlaps with Technology, and Engineering with Mathematics. That is also known as STEM teaching, one example of cross-disciplinary teaching that also teaches skills which equip you for managing a future-focused world.
There is a definite need for such skills in the youth of tomorrow, especially young Africans who need real-world problem-solving skills to excel in their various careers.
---
Michaela Wild
International Keynote Speaker—Author, Coach, Trainer—Bringing You Music, Fun, Entertainment, and a Recipe for Living a Great Life
Coaching Secrets: Take Charge of Your Life and Achieve Your Goals in Record Time
In my world the real work for achieving a goal is rarely about the DOING of the things that need to be done to get the goal.
In my world it´s all about BECOMING the person that achieves. It´s about becoming the person for whom it´s normal to have what I work on achieving.
It´s about growing into a bigger me.
That's where the real work is. But—it´s also the most fun part. When we have grown into this person, the rest is fast and easy.
Ask yourself: Who do I have to be in order to achieve the same goal? How does this person think and feel? How does she act in everyday life?
What would she do, now? How does she move? How would she react to this situation? That's the secret—to start asking.
---
Jola Cruise
Relationship Coach, Speaker, Mentor, Entrepreneur
Helping women restore marriages single-handedly
Living Your Principles: The Key to Success in Relationship Coaching
To become a successful relationship coach, you need to live and breathe the principles you teach. Your own relationship becomes your calling card, attracting clients who want the same kind of joy and love you have.
It's essential to have a proven framework of skills that work, such as deep respect and gratitude that can be passed on to your clients.
But the real secret to success is teaching them to love themselves first. To put their own needs ahead of everyone else no matter how selfish it may sound at first. The relationship can only improve if the woman tends to her joy first. Then she can pour from a full cup.
When you practice what you preach, you become a beacon of hope for those who seek your guidance. You show them that your principles aren't just empty words but a path to a fulfilling and happy life with their partner.
So, if you want to be a great relationship coach, don't just talk the talk – walk the walk. Show your clients the power of your principles in action and help them transform their own relationships from the inside out.
---
Mona Moldoveanu Pologea
Owner & Managing Director ROLANG School
Secrets to Success as a Managing Director of a School: How to Lead, Motivate and Inspire Your Team
As a managing director of ROLANG School, the only private school in Romania specializing in teaching the Romanian language to international students, there are several secrets to success when it comes to leading, motivating, and inspiring your team. First and foremost, it is essential to set clear goals and expectations for your team, outlining what needs to be achieved and by when. This can help your team stay focused and motivated towards achieving their objectives.
Effective communication is also critical in ensuring that your team is on the same page and working towards the same goals. Encouraging open communication and creating a safe and supportive environment where everyone feels valued can also help build trust and improve your team's morale. It is important to create a positive and inclusive work culture that encourages collaboration and mutual respect among all members of your team.
Another key to success as a managing director is to lead by example. Your team looks up to you for guidance, and if you demonstrate a strong work ethic, commitment, and passion for your work, they are likely to follow suit.
Recognizing and rewarding the hard work and achievements of your team can also help motivate and inspire them. Celebrating successes, no matter how small, can go a long way in boosting your team's morale and creating a positive work environment.
Lastly, investing in the professional development and training of your team can help them grow and develop in their roles, leading to better performance and results for the school as a whole. Make sure that your team has access to the resources and training they need to be successful and create an environment of collaboration and support!
By following these steps, you can motivate your team to reach their full potential and create a positive impact on your school.
---
Marleen Somohardjo
Strategist, Advisor, Founder
3 Secrets Only Successful CFO's & Entrepreneurs Know
Only the premier CFO says that clarity is key to their success. Clarity in what? Well, to start, being clear on something as elementary as the relationship between the past and the future is principal because while the past matters, the premier CFO knows you are required to influence the surroundings and data that ensures the future. That is secret #1. 
Secret #2 the best CFOs & entrepreneurs share in common: they understand the impact of strategic thinking.
With a strategic approach, you're able to convert and convey numbers to your team and stakeholders. 
I agree with this quote by CFO Steven Nutt that says "… I've always felt it was more important to tell the story behind the numbers and get into not just the 'what' but the 'why'." – Steven Nutt. As the role of CFO evolves, accounting demands that the overwhelming variety of information in the form of numbers and data is structured and governed.
Support your strategic thinking, conveying the why to your teams and stakeholders, by outlining the financial data as engine for your strategic goals.
Thus, to swim with the sharks, cater for infrastructures that make information easily understood and push your company into a more solid future.
My final secret, known to successful entrepreneurs and CFO's, is the difference between working with technology and relying on technology to do all the work.
You can use technological progress to achieve the fantasies of yesterday's accountants.
Many companies are automating processes in order to manage costs effectively, increase efficient transactional work, and speed up repetitively basic & habitual tasks.
It is not always wise to follow a technological trend, progressively a decision every entrepreneur has had to contend with, and every successful CFO makes with careful deliberation.
Share one of these 3 secrets with a friend and read more about how to Maximise Your Cash Flow: 5 pillars to profit in my book online.
Did you enjoy this article and find it helpful? Why not share it with your social media network below?